Andrea Cavalleri elected to Academia Europaea
MPSD founding member Professor Dr. Andrea Cavalleri has been elected as a member of the Academia Europaea – a non-governmental body which promotes research and scholarship across Europe.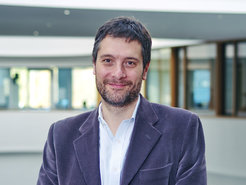 As a director of the Max Planck Institute for the Structure and Dynamics of Matter (MPSD) in Hamburg, Professor Cavalleri leads the Condensed Matter Dynamics Department. His work focuses on the physics of strongly correlated electron systems.
He became a Fellow of the American Association for the Advancement of Science this year and is a Professor of Physics at the Universities of Hamburg and Oxford.
The Academia advises governments and European institutions on matters affecting science and academic life. It also wants to promote a better understanding among the public of scientific and scholarly issues that affect society and the quality of life in general.
The organisation now has around 4,000 members, including 72 Nobel Laureates. They are eminent scientists and scholars from all disciplines. Membership is granted to individuals who have been nominated, scrutinised and elected by their peers.