Administrative and Technical Services
The staff of the MPSD's administrative and technical departments provide a wide range of vital services to ensure the smooth running of this growing, internationally renowned research institute. They make an important contribution to the success of the multidisciplinary scientific work carried out at the MPSD.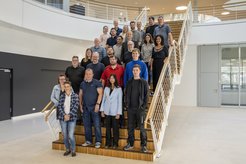 Head of Administration and Technical Services:
The Head of the Administration and Technical Services is in charge of the administrative management of the Institute, oversees the administrative and technical services departments and is responsible for all legal and contractual matters.

Institute's Secretariat and Office Management:
The institute's secretary is the first point of contact for general enquiries, coordinates events, work-related travel and office supplies. Aside from various other duties, she also supports the administrative and technical services departments and the Junior Research Groups in administrative matters.

Human Resource Department:
The Human Resource Department handles all employment and recruitment issues. It is in charge of the on-boarding and off-boarding of MPSD employees and visitors and processes all travel reimbursements.
Name
Phone
Email
Room
99/01.097
99/O1.095

Purchasing Department:
The Purchasing Department acquires goods and services for all MPSD employees according to public procurement law. It handles national and EU-wide tendering procedures and advises researchers about customs, delivery and procurement issues.
Name
Phone
Email
Room
99/O1.070
99/O1.077

Finance Department:
The Finance Department monitors the Institute's budget and liquidity and is in charge of all activities related to accounting, billing, cost control as well as inventory and asset management. The members of the department also handle tax issues, prepare financial statements and ensure compliance with public spending regulations and other relevant laws.
Name
Phone
Email
Room
99/O1.089
99/O1.096
99/O1.087

Information Technology Department:
The IT department offers support in all computer-related areas. It provides the necessary IT infrastructure, purchases, installs and configures Hard- and Software solutions from standard office computers up to individually customized workstations or server facilities. The department is the first contact for all local IT problems as well as for services that are provided by our external partners.
Name
Phone
Email
Room
99/O1.100
99/O1.101
99/O1.102

External Funding Coordination:
The External Funding Coordinator provides counselling about funding possibilities for different career levels and supports researchers in the grant preparation. She acts as intermediary between funding agencies and researchers and provides administrative support in the management of third-party funded projects including financial controlling, reporting and preparation of audits. This allows the principal investigators and their scientific teams to fully concentrate on their science and research activities.

Mechanical Machine Shops:
MPSD machinists specialize in manufacturing prototypes and special equipment for complex experimental setups. They assemble devices and equipment for scientific experiments in the machine shop of the University of Hamburg. An additional small machine shop is used for training purposes and also by MPSD scientists and technicians with the relevant training.
Name
Phone
Email
Room
900/EG.092
900/EG.092
900/EG.092
900/EG.092
900/EG.092
900/EG.092
900/EG.094
900/EG.092

Construction and Building Coordinator:
The Building and Construction Coordinator is in charge of handling all matters on behalf of the institute regarding the planning and construction of the new MPSD expansion building with its state-of-the-art research infrastructure. He serves as intermediary between the central construction department of the MPG and the researchers of the institute. Upon completion of the new building, the Building and Construction Coordinator will be in charge of overseeing all maintenance, reconstruction and upgrading measures.

Technical Facility Department:
The new building is operated by the engineers and technicians of the technical facility department who specialize in intelligent building technology.
Name
Phone
Email
Room
99/O1.074
99/O1.069
99/O1.072