Welcome at the MPSD
Welcome to the Max Planck Institute for the Structure and Dynamics of Matter! Here are some tips and information sources to support you in the first few days and weeks at MPSD.
The MPSD is one of three Max Planck Institutes in Hamburg. We are based in the Center for Free-Electron Science on the Bahrenfeld Research Campus in the west of the city.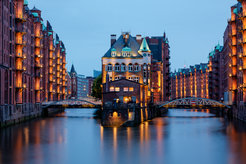 The campus is easily reached by public transport and by car (see map below or Maps & Directions). When you arrive, you will already have been in touch with our HR department (see our Administrative and Technical Services). They can assist you with many queries or pass you on to the right person if need be.
If you are looking for information about life in Germany as well as the things you need to do before and during your arrival (e.g. visas, health insurance, other documentation), this government web site may prove useful. You will also find lots of good advice in the Living and Working in Germany brochure for international guest researchers, published by the Max Planck Society.
In addition, the International Office at DESY can help with specific queries:
DESY International Office
Building 6, Room 114
Notkestraße 85
22607 Hamburg
Tel. +49 40 8998-3440
international.office@desy.de
Housing: Finding an affordable place to live can be a challenge in Hamburg. Rental portals are a good place to start your search. In addition, the DESY Housing Service can assist you.
To help you find your way around, here is a map of the Research Campus: