More than 10,000 visitors at Open Day 2017
Record-breaking 12-hour science marathon at CFEL
A record number of people attended the Open Day and Night of Knowledge in the CFEL building on 4 November. They watched and took part in dozens of experiments and lectures put on by scientists from the MPSD, DESY, the Centre for Ultrafast Imaging (CUI) and the University of Hamburg.
In the course of 12 hours, 10,477 visitors of all ages and backgrounds made their way through the building. Thousands took part in the interactive events – from the nanocrystals lab in the foyer, where queues of children in lab coats formed early on, to experiments involving lasers, pendula, marshmallows, the air around us, and much more.
The Open Day merged into the Night of Knowledge – a Hamburg-wide science festival which was attended by 32,000 people. At the CFEL building and across DESY and the science campus, the flow of visitors continued until midnight.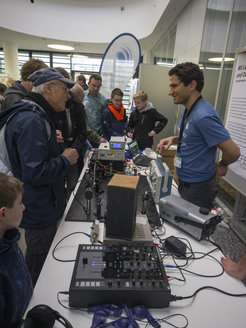 A 13-metre-long Foucaults pendulum suspended from the 3rd floor to demonstrate the earth's rotation attracted large crowds in the CFEL foyer. It was designed and built on site. Many commented that it was not only a fascinating exhibit but also a welcome point of tranquility.
CUI's Arts & Science exhibition and a photo series of people working here added striking visual elements to the building. Many visitors were impressed by the design of the building with its curved corridors, bright spaces and huge whiteboards to aid scientific exchanges.
The event was an important bridge between members of the public and the scientific community. It raised awareness of the fundamental natural sciences and the organizations involved. Many young people at the event commented that they were inspired to pursue their interest in the natural sciences.
The managing director of the MPSD, Prof Angel Rubio, said: "I would like to thank everyone involved at the Institute and CFEL for the great job they did. It was a big effort and everyone helped to make it a very successful event. There was lots of positive feedback from the visitors. It is good to see that so many people showed such an interest in the scientific activities of the Institute."
Hamburg's Senator for Science, Katharina Fegebank, thanked all those involved in organizing the event. "Even more people than last time were on a journey of scientific discovery," she said. "The extensive program of events demonstrates the importance and diversity of Hamburg's scientific landscape."