Open Day at the MPSD, CFEL and DESY
4 November 2017, 12 noon (from 5pm: Night of Knowledge / Nacht des Wissens)
On Saturday, 4 November 2017, the Max Planck Institute for the Structure and Dynamics of Matter opens its doors to the public, together with its partners at the Center for Free-Electron Laser Science (CFEL). We invite you to experience science up close – with intriguing experiments, talks and demonstrations, as well as many interactive children's events.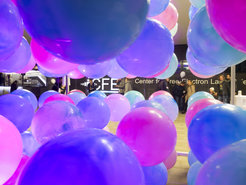 Get a glimpse behind the scenes of this fascinating science hub on the research campus Bahrenfeld! Here you see pendulums standing on their heads, lasers being directed with music and proteins being folded. Walk through a virtual reality world of molecules and discover the laser scalpel which will cut with minimal scarring.
At the MPSD, scientists literally illuminate the atomic elements of life itself. They investigate molecules using ultrafast, extremely bright lasers and electron microscopes with the highest resolutions. At their disposal is an unparalleled diversity of X-ray and laser beams, including the world's brightest X-ray laser, the new XFEL. The scientists gain new insights into the properties of many substances with the aid of unimaginably short light flashes and complex calculations.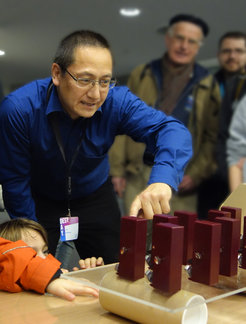 The MPSD stands for pioneering science in its quest to discover new materials that conduct electricity without any losses, but also to gain a deeper understanding of the world around us and the fundamental physics that governs it. Bring your own questions to the Open Day! Our scientists will gladly answer them.
From 12 o'clock onwards we welcome you at the MPSD, in the CFEL building (number 99). DESY and the many other organisations on the research campus will simultaneously open their doors to the public. The CFEL cafeteria has snacks and drinks on offer.
From 5pm onwards, our Open Day merges into the Hamburg-wide Night of Knowledge (Nacht des Wissens). The events and the programme will continue until midnight. From 4.30pm onwards, special bus service number 412 takes you to our stop, Luruper Chaussee (DESY).
You can reach the same stop with metro buses number 2 and 3. Due to the expected high visitor numbers we recommend you leave the car at home and use public transport.