Medal of the Real Sociedad Española de Física for Angel Rubio
Director of the Max Planck Institute for the Structure and Dynamics of Matter in Hamburg receives the highest award of the Royal Spanish Society of Physics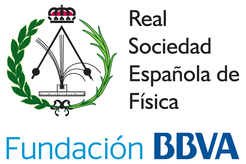 Angel Rubio receives the 2016 Medal of the Real Sociedad Española de Física (Royal Spanish Society of Physics, RSEF) for his research work. This is the highest award among the Premios de Física that are awarded annually by the RSEF and the Fundación BBVA (BBVA Foundation).
"The Jury wishes to highlight the awardee as a world leader in simulation of materials and as the creator of a software tool widely used by hundreds of research groups around the world, which has enabled him to achieve a highly visible researcher profile and become one of the most influential physicists of the last decade."
The award consists of a medal and €15,000 prize money. It will be presented to Angel Rubio on 14 December in a ceremony taking place at the seat of the Fundación BBVA in Madrid.
Since August 2014, Prof. Angel Rubio is director of the Theory Department at the Max Planck Institute for the Structure and Dynamics of Matter at the Center for Free-Electron Laser Science in Hamburg. He is also Distinguished Professor at the University of the Basque Country in San Sebastián, Spain. For his work in the field of simulation and modeling of materials, nanostructures, and biomolecules he has received numerous scientific awards, among them in 2011 and 2016 two ERC Advanced Grants and in 2014 the renowned Spanish Premio Rey Jaime I in the area of Basic Science. In 2014, he was elected Foreign Associate Member of the U.S. National Academy of Sciences (NAS).