Exhibition: Arts & Science in Hamburg's City Hall
Start:

Jun 1, 2017

End:

Jun 15, 2017

Speaker:

Variuos artists

Location:

Hamburg Rathaus / Hamburg City Hall

Room:

Rathausdiele

Host:

The Hamburg Centre for Ultrafast Imaging (CUI)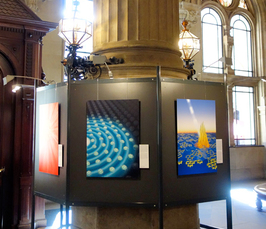 From 1 – 15 June 2017 the cluster of excellence CUI presents images from the micro world in Hamburg's City Hall. The exhibition is centered around the beauty of visualizations of scientific phenomena and structures researched by the Hamburg Centre for Ultrafast Imaging, flanked by photographs of experiments and labs.
Is it Pop-Art, Aboriginal drawings or visualizations from psychedelic experiences? The exhibition "Arts & Science" reveals itself on closer inspection: It presents images from the micro world of scientific fundamental research at the cluster of excellence CUI – wavelike shapes and colour explosions, but also direct images recorded with electron microscopes. There is a lot of room for interpretation and it is up to the observers to just let the beauty of the images sink in or to learn about the physics and chemistry behind the images from the accompanying texts in English and German.
"We want to invite visitors to discover the artistic and aesthetic components of natural science," Prof. Peter Schmelcher, member of the CUI board, says. "Arts & Science" shows poster-sized visualizations from scientific phenomena that are investigated within the CUI research, complemented by photos of the ultra-modern laboratories and light sources.
The opening hours for visiting the exhibition are: Monday to Friday 7:00 am – 7:00 pm, Saturday 10:00 am – 6:00 pm, Sunday 10:00 am – 5 pm. At Whit Weekend the opening hours of the City Hall foyer are: Saturday 10:00 am – 5 pm, Whitsunday closed, Whit Monday 10:00 am – 5 pm.
Entrance is free of charge.
(Text: CUI)