Simone Latini receives Humboldt fellowship
Simone Latini from the MPSD's theory department has been awarded a Humboldt fellowship for postdoctoral researchers. His work focuses on the theoretical description of excited states of matter and how such states can be controlled using tailored light pulses.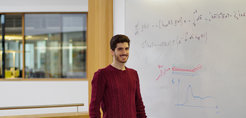 With the funding from the Alexander von Humboldt Foundation, he plans to develop a theoretical framework for the investigation of the ultrafast optical control of electronic dynamics in van der Waals heterostructures.
Simone Latini received his Bachelor's and Master's degrees at the University of Rome Tor Vergata. He completed his PhD at the Technical University of Denmark in 2016.
The Alexander von Humboldt Foundation provides research fellowships to promising young scientists with above average qualifications in their early career. The funding allows international scientists to carry out long-term research projects in Germany.