Angel Rubio becomes NAS Foreign Associate
The director of the MPSD theory department was formally inducted as foreign associate during the 152nd Annual Meeting of the U.S. National Academy of Sciences
In a ceremony at the 2015 Annual Meeting in Washington, DC, the U.S. National Academy of Sciences (NAS) welcomes 84 new members and 21 foreign associates from 15 countries, among them Angel Rubio, director of the theory department of the Max Planck Institute for the Structure and Dynamics of Matter.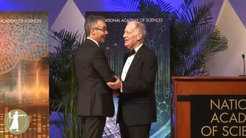 "Rubio's pioneering development of tractable first principles tools for calculating excited state properties of materials has had tremendous impact in elucidating experimental measurements and predicting new materials.", said Ralph J. Cicerone, president of the National Academy of Sciences, during the Presentation Ceremony on 25 April 2015.
The new members and foreign associates were already elected during the 2014 Annual Meeting of the NAS in recognition of their distinguished and continuing achievements in original research. They bring the total number of active members to 2,214 and the total number of foreign associates to 444. Foreign associates are nonvoting members of the NAS, with citizenship outside the United States.
The National Academy of Sciences is a private, nonprofit institution that was established under a congressional charter signed by U.S. President Abraham Lincoln in 1863. It recognizes achievement in science by election to membership, and provides science, technology, and health policy advice to the U.S. federal government and other organizations. Scientists are elected by their peers to membership in the NAS for outstanding contributions to research. The NAS is committed to furthering science in America, and its members are active contributors to the international scientific community.