ERC Synergy grant to former MPSD postdoc puts dynamics at the centre stage
The interactions between molecules are the foundation of life. Proteins are nothing other than molecules with highly specialized functions. They carry out key tasks in our bodies, such as breaking down food for our energy metabolism, transporting vital substances or transmitting signals between cells. But what does it actually look like when a protein meets another molecule and binds to it? Understanding this process is important to design proteins with customized functions for biotechnology or for medical applications to improve the efficacy of drugs and reduce side-effects.
Former MPSD scientist Eike C. Schulz is part of a German-Danish-Swedish research team that has just been awarded an ERC Synergy Grant worth €8.7 million to shed light on this elusive process. The new DynaPLIX research project will use advanced crystallography, spectroscopy and simulation techniques to capture changes in the proteins at every step of their binding process. Traditionally, our picture of proteins is based on static structural models. However, during his time at the MPSD, Eike developed tools and methods for time-resolved serial crystallography – a ground-breaking approach which makes it possible to observe protein activity, while they carry out their functions. Based on this approach he aims to understand e.g. the molecular mechanism of antibiotic resistance and has recently started his own lab at the University Medical Center Hamburg-Eppendorf.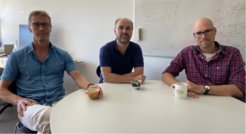 Together with Mikael Akke from Lund University and Kresten Lindorff-Larsen from the University of Copenhagen, Eike will investigate how proteins change from one structural state to another during the binding process of a ligand - a particularly challenging research question. Time-resolved serial crystallography will form one of the cornerstones of DynaPLIX, as will NMR spectroscopy and MD simulations. With these methods, the DynaPLIX researchers want to focus on protein dynamics and thus establish a new "integrative biomolecular dynamics" approach that will make it possible to answer difficult questions, such as how ligands bind to proteins. In this context ligands are simply all molecules that can bind to a protein of interest. These could simply be metabolites in the body, but of course also drug-molecules used to treat diseases. In this regard understanding the binding is of particular interest because it enables to design drugs that bind more efficiently.
"I am more than delighted that our team was awarded this prestigious research grant," says Eike. "This question has puzzled many groups for years and clearly it cannot be answered by a single group alone. The ERC synergy grant lets us connect our respective methods and we hope that in combination they will become bigger than the sum of their parts. We all are confident that our joint approach will open up new avenues that can be applied to many other research questions as well."
About DynaPLIX
DynaPLIX stands for Dynamics of Protein–Ligand Interactions. The project is funded through an ERC Synergy Grant of EUR 8.7 million over a six-year period. The project participants are: Professor Mikael Akke at the Division of Biophysical Chemistry, Center for Molecular Protein Science, Department of Chemistry, Lund University; Professor Kresten Lindorff-Larsen at the Linderstrøm-Lang Centre for Protein Science, Department of Biology, University of Copenhagen; and Dr. Eike-Christian Schulz at the Center for Experimental Medicine, University Medical Center Hamburg-Eppendorf.
About ERC Synergy Grants
The European Research Council (ERC) promotes researcher-driven scientific work of the highest quality in all areas through extensive and long-term funding.
The ERC supports leading-edge research, multidisciplinary and interdisciplinary research projects and ground-breaking ideas in new and emerging areas.
ERC Synergy Grants are aimed at small teams of outstanding researchers who wish to collaborate on a joint research project.