Navigator workshop! Career orientation and job contacts: How to find your perfectjob outside academia
IMPRS-UFAST Ph.D. Seminar
Start:

Feb 14, 2018 09:00 AM (Local Time Germany)

End:

Feb 19, 2018 01:30 PM

Speaker:

several professionals

Location:

CFEL (Bldg. 99)

Host:

CUI, IMPRS-FAST, PIER, DESY, PHGS, MIN-UHH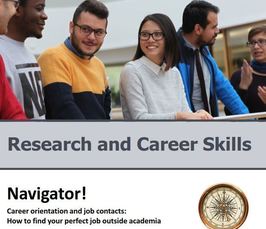 Thinking about your career after the PhD? Three half-days of explorations and personal encounters with visits to leaders from different sectors of work in Hamburg. This workshop will broaden your perspective - on what you have to offer and where you might go.
Day one, 14th Feb., 9:00 – 13:00: How to become effective "out there". Identify your professional opportunities, challenges and visions.
Day two, 15th Feb, 9:00 – 14:30: Work as a team of consultants on a real-lifebusiness challenge. Hosts: Asklepios Kliniken (private sector), HamburgerHochbahn (public transport company), Loki-Schmidt-Stiftung (non-profitfoundation), Hamburg Port Authority (public sector).
Day three, 19th Feb, 9:00 – 13:00: Future career planning: Charting yourprofessional journey.